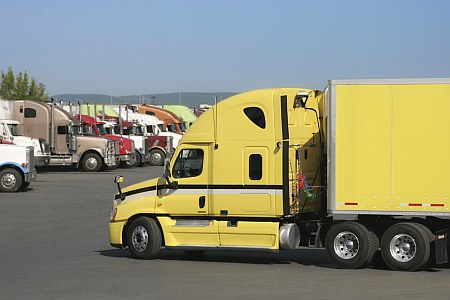 10/18/2014
Truck Stop Health Care, a Florida start-up company, is trying to launch a national service to provide certified medical examiners at truck stops to provide DOT-certified physical exams to CDL drivers.
The company says there are 1.8 million CDL drivers in the U.S. and more than 7,000 truck stops on U.S. highways.
The company plans to open 500 locations in the next six months and 1,500 locations in the next 18-24 months through 300 providers. The firm is hiring managers, supervisors and regional officers for the start-up.
The firm plans a second phase that will include urgent care and occupational clinics to service truckers as well as truck stop personnel.
Truck Stop Health Care was founded by a husband and wife team of physicians, Dr. Gunwant S. Dhaliwal, board certified internist and FMCSA certified medical examiner and Dr. Tejinder Dhaliwal, a board certified anesthesiologist.
They are working to lease space from truck stop owners across the U.S. for DOT physicals to be performed. Truck Stop Health Care is enlisting the help of industry professionals and regional coordinators and will arrange the physicals through DOT specific software on iPads.
Local doctors, nurse practitioners and chiropractors will be sub-contracted to work part-time or full-time for the venture.
The average medical examiner will be able to accomplish 30 physicals per day with the help of two assistants and all CDL drivers with medical issues will be referred to their primary care physicians or other providers in the area.
Despite attempts by trucking groups to delay the effective date of the rule, the Federal Motor Carrier Safety Administration's rule to require drivers to be medically certified by examiners approved by the agency became effective May 21.
Drivers' current medical cards are still valid until the date shown on their certification, but when renewing their current certification — or for new drivers being certified for the first time — they must use an examiner in the agency's registry.
The National Registry of Certified Medical Examiners lists medical examiners (MEs) who have been trained, tested and certified to perform medical examinations for commercial motor vehicle (CMV) drivers in interstate commerce. These MEs fully understand the medical standards in the FMCSA Regulations, related guidance and how they relate to the medical demands of operating a commercial motor vehicle.
The goal of the National Registry is to promote and preserve the highest level of professional standards, training and care among medical examiners. Therefore, the National Registry requires that medical examiners performing CMV driver examinations be trained and certified.
All healthcare professionals are eligible to apply to become a certified medical examiner if their scope of practice authorizes them to perform physical examinations, as defined by the state in which they practice.
The objectives of the National Registry are to:
• Ensure that medical examiners understand fully the medical standards in the Federal Motor Carrier Safety Regulations (FMCSRs) and related guidance and how they apply to CMV drivers
• Maintain ongoing competency of medical examiners through training, testing, certification and recertification
• Promote public confidence in the quality of the medical examinations of CMV drivers
• Ensure that the list of certified medical examiners is easily accessible
FMCSA is and will continue to be involved in all facets of the National Registry program development and implementation and maintain an oversight role. Implementation of the National Registry program demonstrates the commitment of the Department of Transportation and FMCSA to making the nation's highways safer.
In June, FMCSA announced that 30,000 health professionals had been added to the registry with more than 20,000 additional providers in process.
The USDOT medical examination looks at a range of conditions to assess a driver's ability to safely operate a commercial vehicle, including cardiovascular disease, respiratory and muscular functions, vision, and hearing.